Long-distance Bus
Road transportation in this city is quite convenient as both national highways and expressways link every corner of the city.

 Tourist Bus Station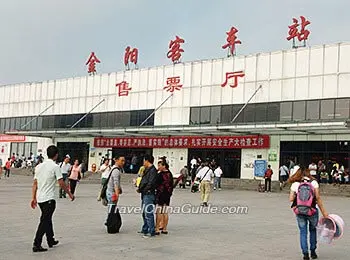 Jinyang Bus Station
Location: No. 278, Beijing Lu
The Tourist Bus Station opposite Qianling Dasha (Qianling Building) deals with tourist bus services only and operates from 7:00 to 20:00. Buses from here mainly serve tourist attractions in Guizhou such as the Huangguoshu Waterfall (two hours), the Dragon Palace Cave Scenic Spot, Zhijin Cave Scenic Spot and the Fanjing Mountain.
It is important to check the exact time of your bus as, though some buses run every thirty minutes, some run only once a day.
You can get to the station via public bus Nos. 1, 2, 10, 12, 13, 16, 23, 61 and 87.

 Coach Terminal
Location: No. 32, Yan'an Xi Lu
Coaches here are mainly bound for cities and counties inside Guizhou Province, as well as neighboring cities and provinces, Sichuan, Yunnan, Guangxi, Zhejiang, Fujian, Guangdong and Chongqing. Generally the coaches leave hourly.

Coach Station next to the local railway station
Coaches from the station run between the city and Anshun, Huajiang, Xingyi, Anlong, Zunyi, Duyun, Kaili, Liuzhi, Bijie, as well as cities outside Guizhou such as Shenzhen, Nanning, Dongguan, Chongqing and Zhanjiang. Couches run hourly from 08:00 to 16:00.

Guizhou Provincial Stadium Coach Station
Location: No. 338, Zunyi Lu
Coaches here run between Guiyang and Zunyi, Anshun, Kaili and Duyun. They are available from 07:00 in the morning and run every thirty minutes.
City-bus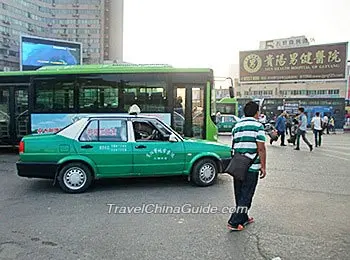 Bus and Taxi
It is the first city in China to adopt self-service ticketing for its public transportation. Its fare is CNY1. Public buses No.1 and 2 run between the Railway Station and Qianling Park throughout the day. Bus No.26 runs between Hebin Park and Huaxi, while bus No.38 between Hebei Park and Tianhetan Scenic Area.
A word of warning: This is a hilly city, so it is suggested that tourists not drive cars themselves to avoid accidents.