Guizhou Festivals in 2017
There are 49 ethnic minorities living in Guizhou, including the Miao, Zhuang, Tujia, Dong, Yao, Hui and Man. Guizhou offers a unique experience of ethnic folk customs, with more than 1,000 ethnic festivals throughout the year. Kaili is one of the most popular places in Guizhou for minorities to gather, and it attracts large number of tourists. The minorities convene many complex and ancient welcome ceremonies, worship their totems, and play their own euphonious music while dancing. China Highlights has listed the following ethnic festivals worth attending while visiting Guizhou. See Our Festival Tours, or simply let's customize a tour for you.
Featured Guizhou Festivals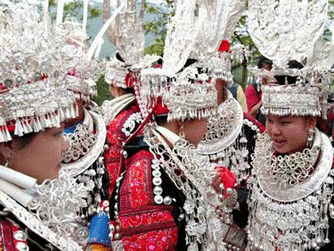 Sisters Meals Festival
Kaili, Apr. 11 to 13
The Sisters' Meals festival is celebrated by the Miao ethnic people in southwestern China's Guizhou province, especially in the Taijiang and Jianhe counties along the banks of the Qingshui River. It is regarded as the oldest Asian Valentine's Day. Check out our tours to celebrate this festival

Lusheng Festival
Kaili,Feb. 14 to 16
The Lusheng Festival is the most significant festival of the Miao community. It is popular throughout Guizhou, Yunnan, and Sichuan Provinces. The Lusheng Festival in Kaili, Guizhou is the most famous and grandest of the all. See our 6-Day Guizhou Ethnic Minorities Festival Tour.

Dragon Canoe Festival
Shidong, Jun. 19 to Jul. 21
The Dragon Canoe Festival is one of the four most important festivals celebrated by the Miao who live on the banks of the Qingshui River in Guizhou. The other three most important Miao festivals are the Miao New Year, the Lusheng Festival and the Sisters' Meal Festival.

Dong Bull-Fighting Festival
Kaili, Mar. 
These specially trained and groomed bulls generally don't take part in farm work, but are pampered and fed special food (like honey). The Dong people in southeastern Guizhou enjoy bullfights. These can be gory. They were traditionally part of many Dong festivals. Two days each year festivals are still celebrated with bullfighting as the main activity. The ceremony and spectacle may interest many travelers.

The Miao New Year Festival
Kaili, Dec. 4, 2017
The celebration of Miao New Year in Leishan, Guizhou, is the grandest among Miao festivities. During the event, tourists can watch attractive Miao customs come alive through various kinds of activities. These include the festival parade, featuring Miao girls and women in traditional dress, traditional lusheng (a bamboo instrument) music, bullfights, horseracing, and of course, lots of singing and dancing.

Dong Ethnic People New Year Festival
Zhaoxing, December. 1, 2016
The Dong people are an interesting ethnic group of about three million people in China who have retained a lot of their customs and traditions to the point that their architecture, dress, and customs really stand out as different and interesting. In particular, they are known for their architectural prowess and style. They make decorated covered bridges and drum towers.
Note: Festival dates provided below are for reference only. They are subject to change for various reasons, including weather conditions. If you plan to see or participate in the festivals, it is recommended that you contact our travel advisors for the most up-to-date information.
Guizhou Festivals Calendar 2017
Festivals
Dates in 2017
Main Activities
Venues
Participants
Jump Flower Festival(跳花坡)
Feb. 6
Lusheng dance and singing
Suoga Town, Liuzhi County, Liuspanhui City (六盘水市六枝特区梭嘎乡)
Celebrated by Long Ho Miao (长角苗), about 3,000 participants
Jump Flower Festival(跳花坡)
Mar. 12
Meeting and bull fight
Nankai Town, Shuicheng County (水城特区南开乡)
Celebrated by Small Flowery Miao (小花苗), about 10,000 participants
Lusheng Festival (芦笙节)
Feb. 14-16
Lusheng dance, singing and bull fighting
Zhouxi Town, Kaili City (凯里市舟溪镇)
Celebrated by Long Skirt Miao (长裙苗), about 20,000 participants
Double Third Festival(三月三)
Mar. 30 approx.
Lusheng dance, singing and meeting
Baojing Town, Zhenyuan County (镇远县报京乡)
Celebrated by Buyi minority (布依族), about 10,000 participants
Sisters Meal Festival(姊妹饭节)
Apr. 11–13
Market, singing, lusheng dance and eating sisters meal
Shidong Town, Taijiang County (台江县施洞镇)
Celebrated by Miao minority (苗族), about 10,000 participants
April-Eighth Festival(四月八)
May 3
Horse racing, bull fighting, singing, lusheng dance and meeting
Feiyun Ya, Huangping County (黄平县飞云崖)
Celebrated by Miao minority, about 15,000 participants
Dragon Boat Festival(龙舟节)
Jun. 19
Dragon boat racing, market, singing and dancing
Shidong Town, Taijiang County (台江县施洞镇)
Celebrated by Miao minority, about 30,000 participants
Climbing Festival (爬坡节)
July 12–14 approx.
Mountain climbing, bullfight, singing and meeting
Xianglu Mount, Kaili City (凯里市香炉山)
Celebrated by Miao minority, about 20,000 participants
Double Sixth Festival(六月六)
Jul. 29
Singing and playing music with leaves
Suburban Area of Zhenfeng County, Southwest Guizhou  Prefecture (黔西南州贞丰县郊区)
Celebrated by Buyi minority, about 10,000 participants
Lusheng Festival (芦笙节)
Nov. 12–14, 2017
Horse racing, bullfight, lusheng dance and market
Chang'an Riverside, Huangping County (黄平县重安江)
Celebrated by Miao minority, about 20,000 participants
Lusheng Festival (芦笙节)
Nov. 15–17, 2017
Bullfight, lusheng dance and singing
Gulong Town, Huangping County (黄平县谷陇乡)
Celebrated by Miao minority, about 30,000 participants
Miao New Year Festival (苗年)
Dec. 4, 2017
Singing,dancing and meeting
Kaili City and Leishan County (凯里市、雷山县)
About 50,000 participants
Song Festival (卯节)
Jul. 15 approx.
Dancing, singing and bull fighting
Jiuqian Town, Sandu County (三都县九阡)
Celebrated by Shui minority (水族), about 5,000 participants